BANGLI – BALI'S FOREMOST RURAL AND HEALING DESTINATION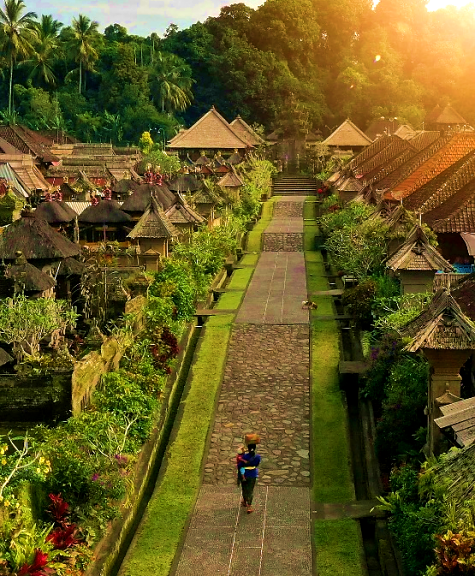 Bali island has an endless healing destination and rural beauty known for centuries – If you are interested to connect with your physical, mental, or emotional well-being through activities that promote healing, relaxation, and rejuvenation, with a living sustainable lifestyle of such, the choice then goes to Bangli regency as a must on your agenda. 
Start with visiting a traditional nature setting – The Penglipuran Traditional Village. Not only culture, art, and beautiful natural landscapes, this bamboo forest destination is also one of the best ecologies in this traditional village.
The bamboo forest in the Penglipuran Traditional Village is spread in the area of almost green tens of hectares offers fourteen types of bamboo grow including the endemic bamboo species native to Bali. Besides healing and soothing your mind, pampered by the sound of bamboo leaves orchestra, you can have a learning experience about local community rules at the same time – educational approach to stay sustainable with bamboo surrounding.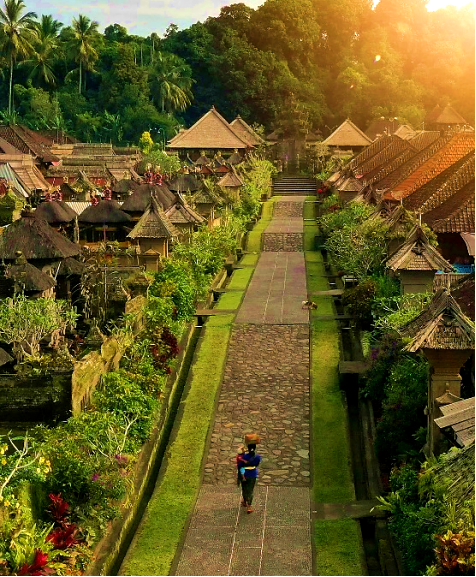 Next is Undisan Tourism Village, one of the top 50 best tourism villages in the 2022 Indonesian Tourism Village Award (ADWI). This is the best of the best where rural living a community-based tourism. It also puts forward the principles of balance sustainable living and digitalization that expected to be an inspiration for others.
Further in search of sustainable and healing destination, by traveling to Kintamani mountain side is the right thing to do – Penelokan Tourism Village. A place with so much choices of tourist attractions with a number of amazing views such as Mount and Lake Batur natural panoramas from various angles as well as the Mount Abang. The temperature is quite cool in the range of 22 ° Celsius, surrounded by orange orchards, citrus plantations and coffee.
Still on the mountain side is Toya Bungkah Hot Spring – Located right on the edge of the lake and valley of the mountain, the natural charm around of sulfur hot spring pool that can spoil the eyes, body, mind for healing moment. Stay at Pinggan Village – to watch the beauty of the sunrise combined with the beautiful silhouette of Mount Batur which stands majestically.
Last but not least, for peaceful and spiritual energies, two significant temples in Bangli regency are worth to visit. Kehen temple, an ancient architecture in the  village of Cempaga, a cool highpoint region  that's also famous for fruit and palm sugar plantations, and scenic rural countryside. This serene temple is augmented by the landscape of overgrowth centuries old banyan trees that forming such a truly spiritual healing for the visitors. The other temple is Ulundanu temple – located at the largest lake in Bali- lake  Batur.  This  temple  is  one of the most 
important temples in Bali which acted as the energy to maintain harmony and stability of the people and the entire island. It is dedicated to the god Vishnu and the goddess Dewi Danu, goddess of Lake Batur. This spiritual cultural Landscape is inscribed as World Heritage Site by UNESCO in 2012.
"Overall, Bangli, Bali offers many opportunities for visitors to connect with nature, culture, and spirituality in a healing and rejuvenating way.
At BBTF2023 annual event, we proudly present the quality and sustainable tourism as we believe it is the future – Bangli is one of the best healing and local values interactions, learn more and preserve this beautiful culture" I Putu Winastra, the Head Committee of BBTF 2023 and the Chairman of ASITA Bali Chapter stated.  Come and join us at BBTF 2023. Learn more at www.bbtf.co.id & for further information contact us at info@bbtf.co.id